The EMHA worked along KPMG on a market research to understand the patient journey and burden of disease for migraine in 12 countries. The Access to care survey 2021 has shown insightful results on the patients' access to treatment and care in each of their country.
Summary of the "Access To Care III" survey results
•Majority of responders are women between 25 and 59 years old, actively working, from urban areas and with low family incomes (44% reported family annual incomes below 40K€).
•Almost 50% of responders reported suffer chronic migraine. Main indicators related to the type of migraine evidence that responders are, in average, patients suffering from severe migraine (57% with more than 8 days of migraine/month) for many years (83% responders suffer migraine for more than 10 years).
•Patients reported that migraine affects their daily activities when suffering attacks, being driving the more critical.
•First visited specialist is the G.P (58%). Nevertheless, the main specialist who made the diagnosis and the current follow up is the Neurologist (48% and 54% respectively). It is worth noting that a third of responders visited more than 4 specialist until being diagnosed, and a quarter reported not being followed by any HCP.
•Although 70% of responders do not go to a specialized migraine center, there is an overall agreement in that an increase of their availability would significantly improve migraine patients' reality.
•Although almost 90% of patients are treated, time since diagnosis to treatment evidences difficulties to access to migraine treatments (49% needed more than 3 years since diagnosis).
•Since diagnosis, the first treatments received are general analgesics followed by triptans. The last prescribed are Anti CGRPs. Currently, the main treatments used are triptans (78%), and the least used Botox (11%). Nonetheless, polymedication is highly frequent and multiple drug combinations have been reported, being specific prescription mediations (e.g. triptans) alone or together with painkillers and/or topiramate the main received.
•The majority of those who do not take New Anti CGRPs treatment knows its existence (62%) and reported that the main barriers to its access is that their doctor didn't mention it (26%), it is not covered by their health system (25%) or they are not eligible for the treatment yet (25%).
•For those patients treated with New Anti CGRPs, 25% reported to pay for the treatment out of their pocket. Almost a quarter of patients treated with New Anti CGRPs reported dissatisfaction with the treatment, being most of those responders suffering from severe migraine, mainly chronic, with more than 14 crisis per month.
•Despite more than half of responders reported that the cost of the treatment impacts on their finances (52%), most of them did not request a change for this reason. In fact, annual income does not affect their expenses in this sense as regardless of their income, responders are willing to pay as much money as they need to treat their migraine.
Highlights illustrated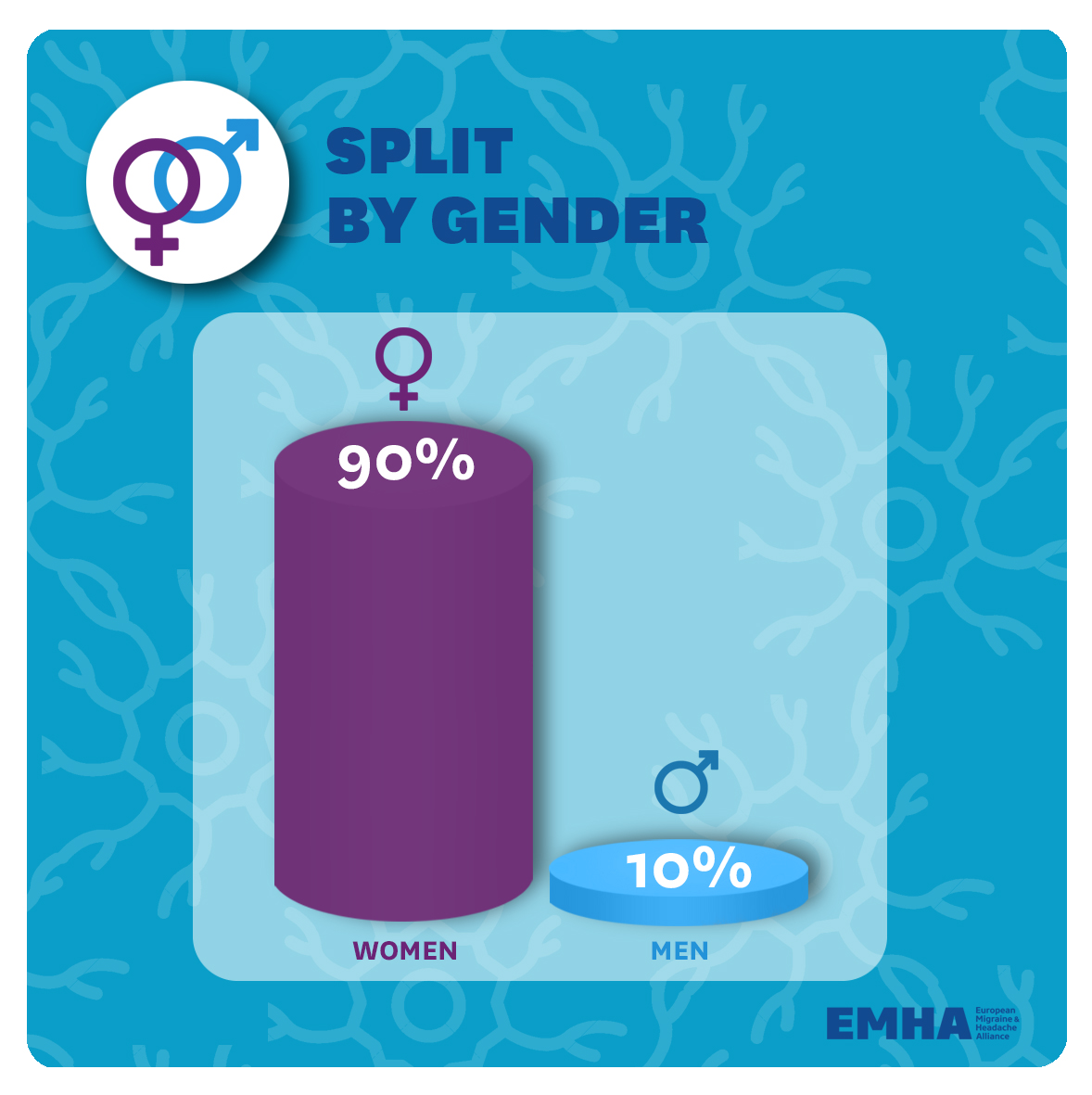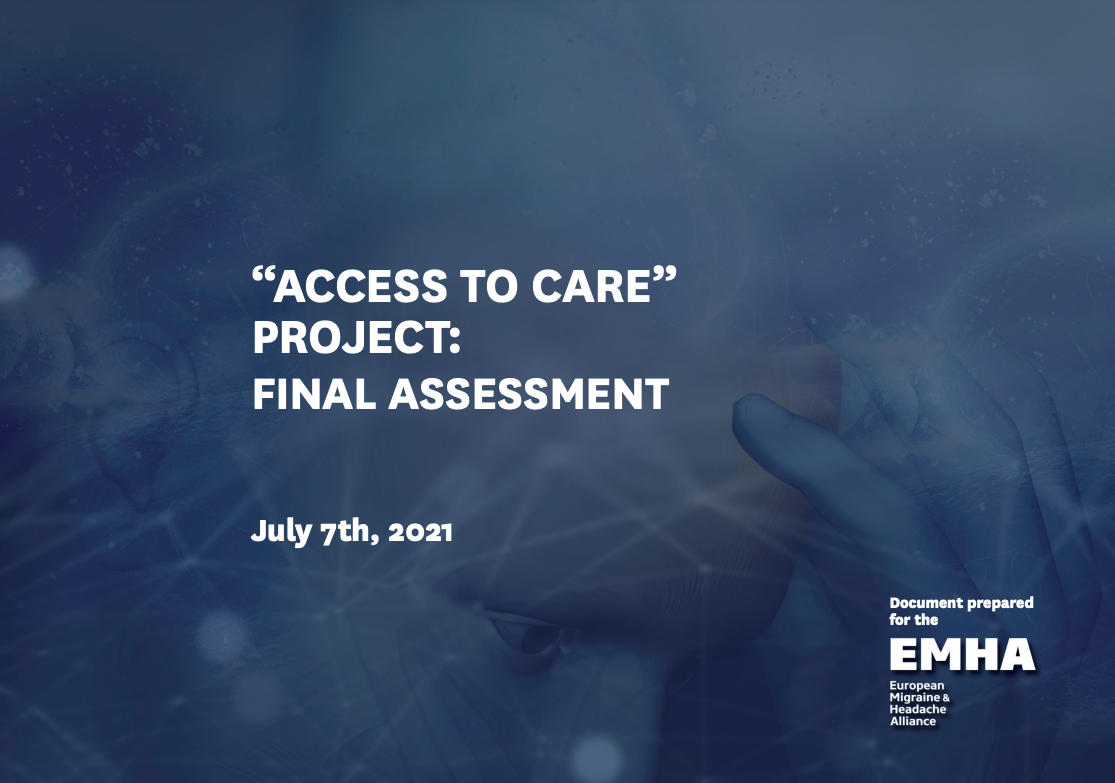 Read the whole Access to Care study
Migraine in the EU: Lifting the barriers to treatment
The European Migraine & Headache Alliance (EMHA) organised a webinar "Migraine in the EU: Lifting the barriers to treatment" to present the results of a survey looking into the migraine patients' journey to have a diagnosis and treatment for their disease in the European Union (EU). The survey was conducted in 2021, with close to 3,400 participants from 10 countries.
The webinar of 29 September 2021 was hosted by Deirdre Clune, Member of the European Parliament (Ireland) and member of the European Parliament Migraine Alliance.
'Having such a number of hurdles to overcome before having a diagnosis and treatment is totally unnecessary and inacceptable. This has huge repercussions on the migraineurs' quality of life and society as a whole. EMHA and the migraine patient community call on the EU and national policy makers to commit to make migraine a priority health action, said Elena Ruiz de la Torre, EMHA Executive Director.
'Since EMHA's Call to Action' to make migraine a EU and national health priority, very little has been done. Today's Statement already endorsed by a large number of supporters and the survey's results must be wake-up call for the policy makers', said Patrick Little, President EMHA
To endorse EMHA's Statement, please visit: https://www.emhalliance.org/for-policy-makers/#migraine-sufferers